The Willow Coffin Funeral - £3,430
A traditional funeral with a veneered oak or elm coffin, plus a hearse and a funeral limousine. This package is based on a Cremation Service at The Cardiff & Vale Crematorium, Barry.
What's included:
Our professional services

Collection of the deceased (within a 25 mile radius)

Liaising with the Coroner if necessary

Arranging Doctor's paperwork

Caring for and preparation of the deceased

An environmentally friendly wicker coffin, suitable for cremation

Embalming / hygienic treatment

Church minister to conduct the service

A Hearse to transport the deceased to the Crematorium and all necessary staff

Funeral limousine to transport up to 6 family members to and from the service
The Willow Coffin Funeral Price Breakdown
Bringing the deceased into our care until the day of the funeral

£150.00

Care and preparing the deceased including dressing

£100.00

An environmentally friendly wicker coffin and all fittings

(From)£650.00

Hearse, funeral limousine and all necessary staff on the day of the funeral

£750.00

Cremation Fee*

£890.00

Embalming / hygienic treatment

£125.00

Church Minister

£86.00

Doctors Fee

£82.00

Our professional fees

£597.00

Total Cost

£3,430.00
*Cremation services between 0800 – 10:00 are subject to a deduction of £100.00 bringing total cost to £3,330.00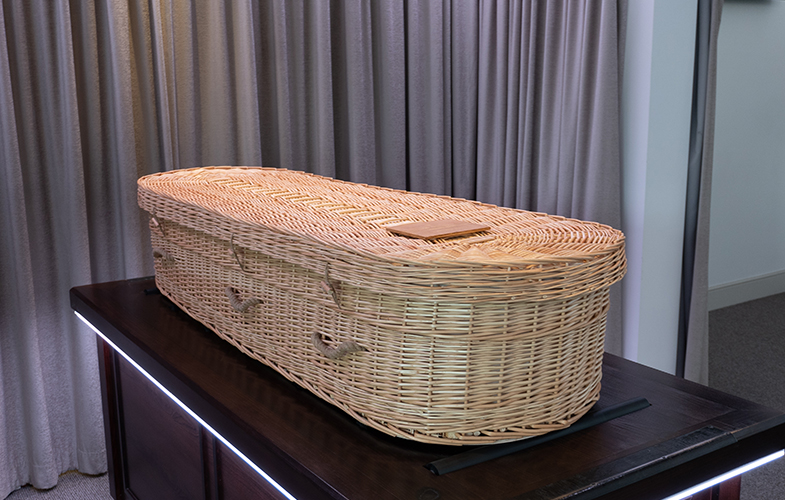 Testimonials
Read reviews and testimonials from some of the families we've helped.
Read More >
Pre-Paid Funeral Plans
Pre-pay for your funeral and put your loved ones' minds at ease.
Read More >
Experienced Funeral Providers
We are very experienced in managing a wide variety of funerals encompassing all religions, including non-religious/humanist.
Robert Johnson
Principal Funeral Director